Ambassador Paul Griffiths' ANZAC Day 2022 Address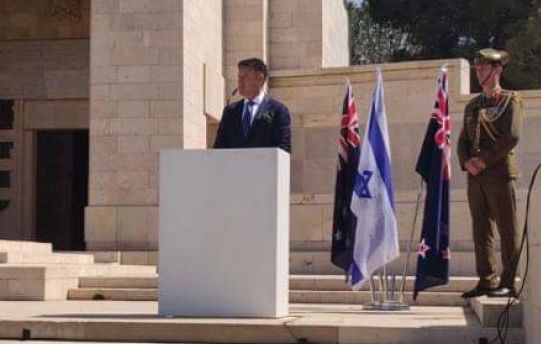 Your Excellencies
Representatives of the Israeli Government,
including Amb Gil Haskell
Diplomatic colleagues
Defence attachés and military personnel
Rabbi Apple, Rev Muriel Pearson
Veterans
Members of our Australian community
Distinguished guests, ladies and gentlemen
It is a great honour for me to address you on this day of remembrance - ANZAC Day 2022.
The world around us has been experiencing testing times, where everything has been unclear and difficult; times where many individuals, societies, and governments have had to struggle and sacrifice for the greater good.
It has been over 100 years since the world struggled through a major pandemic, made more complicated at the time with the ending of World War I. The ANZAC legend was born during this time of adversity. They too, lived in a period of global upheaval and uncertainty.
As we gather to honour Australian and New Zealand soldiers, we must let the memory of their resilience and sacrifice strengthen us. We must recognise that their hope for a better future is what allowed for such strength, and that coming to terms with the past has allowed us to stand here today.
The immense dedication of our defence forces lives on. This year marks 40 years of the Multinational Force and Observers. Their mission was to supervise the implementation of the security provisions of the Israel-Egypt Peace Treaty. Currently, 63 dedicated Australian and New Zealand soldiers are deployed with the mission – some are with us today. They are an example of working for the greater good and for peace as a legacy of war.
On ANZAC Day we reflect on the sacrifice of our forebears and their role in shaping our present. We search for and recall the stories of great men and women in our families and in our communities that inspire and unite us.
One such story is that of Robert 'Bob' Nichols.
Bob was one of five brothers raised in Melbourne during the Great Depression. He enlisted in the army at just 16 years of age. To convince his mother to sign the papers that would allow him to join at 16, he told her he would never do anything that she would not be proud of.
In November 1940, Bob disembarked in Egypt with the Second Fourteenth Battalion. He saw action in North Africa, and then was stationed in Jerusalem. It was here he developed a deep respect for this land that would last a lifetime. In June 1941, Bob engaged in cross-border attacks alongside Moshe Dayan - the future Israeli Foreign Affairs and Defence Minister. It was in one such attack that Dayan lost his eye, the cause of his prominent eye-patch. These attacks escalated into a fierce, six-week campaign led by Bob's Battalion in Syria and Lebanon against the Vichy French who were advancing ahead of Nazi Germany. The ANZACs were ultimately successful.
Soon after, Bob's Battalion was sent back to Australia to counter the Japanese in the Pacific. It was his discipline, courage and faithfulness to his mates that led to his appointment as the youngest Warrant Officer in the then-British Empire. Bob led by being a servant, taking seriously the responsibility for his 900 men, comforting many as they drew their last breath. One quarter of the battalion would not return from the notorious Kokoda Track, having served in what would become arguably Australia's most successful military campaign. Six years after he made that promise to his mother, Bob Nichols returned to tell her he had kept it.
In Bob's eyes no person was lesser nor greater. It was his love and respect for the goodness and dignity of others and his ability to forgive that enabled him to keep returning to this city, Jerusalem, and nearby battlefields to talk about his experiences – offering countless others peace and hope.
Robert Nichols was the grandfather of our Embassy's First Secretary, Jacob Robert Nichols. Jake, carrying his grandfather's name, is today following in Bob's footsteps representing Australia in Israel, albeit in different circumstances.
In the blessing we will soon be reciting, we will ask God for the serenity to accept the things we cannot change. I ask all of us to draw inspiration from this story and seek not only to accept the things we cannot change, but to learn from them, to grow and forgive.
As we look towards the future, let us all honour the service and sacrifices made by the ANZACs, so that they inspire us to keep moving forward with strength and hope despite the challenges we may face.
Lest We Forget.