Application for a NEW Australian Passport
As of Monday 4 July 2016 an appointment will be required for all passport and notarial services provided by the Australian Embassy, Tel Aviv.
Please complete the application form in black ballpoint pen.

It is important that the application form be filled out correctly - incomplete applications cannot be processed. NOTE THAT ALTERATIONS TO ERRORS ON APPLICATION FORMS MUST BE INITIALLED BY APPLICANTS/GUARANTORS. NO ALTERNATIONS CAN BE MADE TO ANY SIGNATURES ON AN APPLICATION FORM.
If you have difficulty meeting or understanding the requirements, please call the Australian Embassy, Passports Section for more information on 03 693 5027.

From 1 July 2015 all passport applications must be submitted in person at the Embassy. For children's passport applications (up to 16 years) one parent may apply in person without the child being present. The lodging parent must provide ID: Their Australian passport or driver's license, current or expired, or a foreign passport.
NEW POLICY FOR 16 AND 17 YEAR OLDS: From 1 January 2016 we will issue 10 year validity passports for children aged 16 or 17. The applicable fee will be the 10 year passport fee. However, the children's overseas surcharge will apply. Parental consent on the application form will still be required. The 16 and 17 year olds will be required to attend the Embassy in person, along with the lodging parent.
- All applicants born in Australia who have changed their name in Australia or overseas (including change of name through marriage) must provide a name change certificate issued by the Registry of Birth Deaths and Marriages in the State where they were born.
- All applicants not born in Australia who wish to change their name must provide an Apostille stamp on their original marriage or change of name certificate if these are not Australian documents.
Please note your current Australian passport must be provided (unless lost or stolen). Applicants must also provide either their original full Australian birth certificate or their Australian certificate of citizenship. If the certificate of citizenship does not include their place of birth and sex, the applicant must also provide their original foreign birth certificate along with a notarized translation of the birth certificate in English. All supporting documentation must be ORIGINAL and accompanied by official translations by Public Notaries if not already in English.
PLEASE SIGN ONLY WITHIN BORDERS OF WHITE BOX. Children aged over 10 years must sign in the appropriate signature box.
All adult applicants aged over 18 years must provide two means of identity apart from their Australian passport that together show photo and current address:
One type of ID can be : Current Australian or current Israeli driving licence, foreign residency ID card.
Second type of ID can be: Foreign passport, credit/bank card, Israeli/Australian health card.
You may collect your passport in person or you may arrange to have your passport posted to you. All passports to be posted will be sent by registered mail. If everything is in order, processing of routine passport applications should take approximately 3 weeks.

Information regarding Section 11 of the application form:
The Guarantor must be EITHER an Australian citizen aged over 18, who has known the applicant for at least one year or since birth, who is not related to the applicant and who possesses a current Australian passport with at least 2 years validity

OR a person currently employed in Israel in the following approved professional or occupational groups, who has known the applicant for at least one year or since birth and who is not related to the applicant. This person does not have to be Australian.

- Chartered/Certified Accountants, Chartered Engineers, Bank Managers
- Judges, Barristers, Solicitors, Patent Attorneys, Clerks of Court, Bailiffs, Sheriffs
- Registered Medical Practitioners, Dentists, Pharmacists, Registered Veterinary - Surgeons, Registered Nurses
- Members of Parliament, elected City, County and District Councilors
- Police Officers with at least 5 years continuous service
- Members currently serving in the regular Australian or British Defense Force with at least 5 years continuous service
- Marriage Celebrants
- Teachers - full-time, who have been teaching for more than 5 years
- Civil Servants - full-time, who have been employed continuously for at least 5 years by their current employer
- Bank Managers
- Registered Psychologists, Registered Chiropractors, Registered Optometrists,Registered Physiotherapists.
If photos do not meet the requirements listed below, they will not be accepted and there will be delays in the passport production process. Passport photos are scanned and must meet these requirements.
Photograph requirements
Click here:
Photo Guidelines: https://www.passports.gov.au/passports-explained/how-apply/passport-photo-guidelines
Canmera Operator Guidelines: https://www.passports.gov.au/files/brochure-camera-operator-guidelines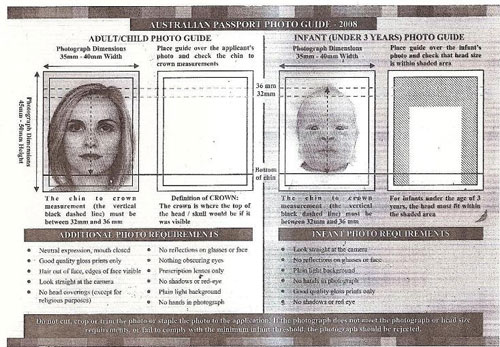 ADDRESS

Australian Embassy Mailing address: PO Box 29108
Discount Bank Tower (Level 28) Tel Aviv 6129001
23 Yehuda Halevi Street,
Tel Aviv 6513601